Nick Saban talks about NIL Collectives and the Transfer Portal at the Mobile event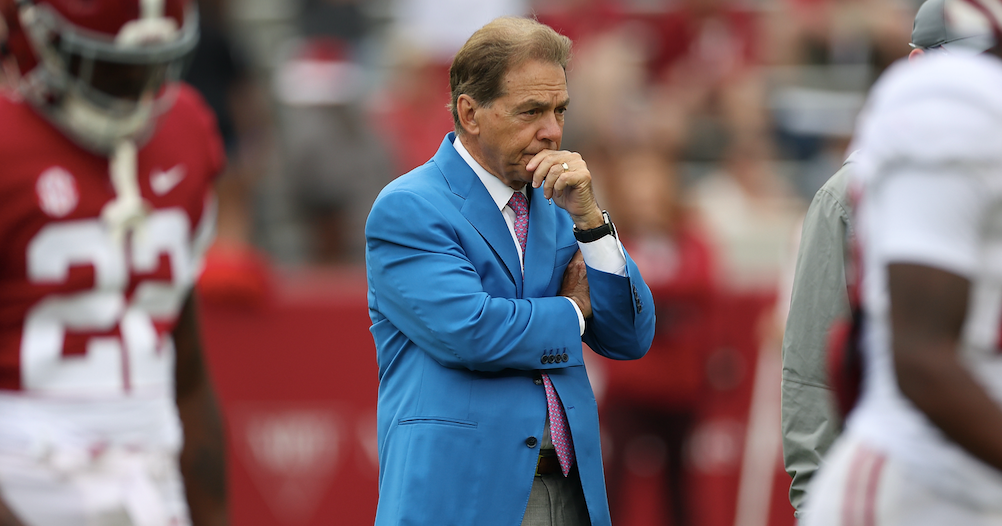 Last week, Alabama officially entered the NIL ring with their own third-party collective.
Although not affiliated with the University of Alabama, High Tide Traditions is a third-party entity that will work closely with UA Compliance and Licensing to "create and propel" business opportunities and relationships for Crimson Tide student-athletes while ensuring compliance with all NCAA and university policies and guidelines regarding name, image and likeness.
Speaking in Mobile, Alabama on Tuesday, head coach Nick Saban was asked how his opinion on the name, image and likeness had changed and continued to target previous collectives.
"It really hasn't changed at all," Saban said, via AL.com. "I said at the very beginning that the concept of name and image and likeness for players to come out and be represented and be able to work and earn money using their name and image and likeness is a good thing for gamers. And I think that was the original intention. Now people have started these collectives that raise funds to create opportunities for gamers. I think it's an unintended consequence.
"We didn't last year, and our guys made more money than anyone in college football, representing themselves, creating a good image, being good players, creating value for themselves. So we're going to do the same thing, but we're going to give everyone the same chance. Everyone in the organization will have the same opportunity and then they can earn as much as they want. We give everyone the same medical attention. We give everyone the same nutrition. We offer everyone the same academic support. They have the same purse, so we're going to give them the same opportunity in terms of name, image and likeness, and they can go and win whatever they want.
"I don't know if it's a sustainable pattern for me to start picking who gets what opportunities."
Saban also addressed various other topics during the Team Focus fundraising event, including:
How he feels after the Spring Ball…
"I feel good. I've had the chance to meet all the players on our team over the past two days, and it's always good to get a different perspective on the guys and get their opinion on the game. how they have individually created value for themselves over the last four months, whether academically, personally or from a footballing point of view. Very good. We have made a lot of progress in a lot of areas. We have things we need to work on. It's always a challenge and we look forward to it.
How he changes his way of addressing a team based on his personal…
"I don't really change. I mean, I don't think it's my job to appease the players. Do you think I should appease the players? I do not think so. I think it's up to the players to adhere to the principles and values ​​of the organization and the standard. This is what has helped a lot of players have a chance at success in the past. I think that's one of the reasons players came to Alabama was to try to be the best version of themselves personally, academically, and athletically and kind of follow the principles and values who have established a culture that gives them the best opportunity to do so. ."
What adjustments would he make to the transfer portal…
"I'm not in a position to really say that. Everyone has the ability to go where they want when they want to go, and if we think that's good for the development of young people, I guess that's okay. But I think everyone who succeeds in life has resilience and perseverance. And sometimes resilience and perseverance, and we've had a lot of guys – Mac Jones was in the program for three years and worked and developed to make it successful. B-Rob was a fifth-year guy who didn't play much and had a great career, and now he has the opportunity to play at the next level.
"Someone gave me a stat that our players have made $1.7 billion playing in the NFL since 2007, and all of those guys didn't play when they were freshmen. They don't didn't all play when they were sophomores. They didn't all even play when they were juniors. But they all developed, and I think that's what college is. You're supposed to focus on your development, okay, because we've always said what value can we create for young people by getting them to do the right things, by looking at college as a destination where you develop a career off the pitch for prepare for the day when you can no longer play football and can you develop a career as a footballer? So that is what we have always managed to do, and a lot of people have done it with great success. Hopefully people in our organization who agree to do re things the right way and see that they have the opportunity to do the same.
What he hopes his former assistants-turned-head-coaches will take away from the program…
"Well, I hope they don't get anything out of it, to be honest with you. I think we had a lot of good coaches. When I say a lot of people have contributed to the success we've had, it's a lot of coaches, a lot of people in the organization, our administration. And those guys all did a great job for us because they wanted to create an opportunity for themselves, and I'm very happy for them that they're able to do that. I also think it's important that they be who they are. It's the first thing I tell them when they ask me for advice on finding a job. I say, 'You have to be who you are. Be yourself, be what you believe in. Get others to believe it so you have every chance of succeeding. I think a lot of them have done a great job where they are, and I'm happy for them because they've done a great job for us.
If the offensive line is one of the hardest units to coach, get everyone to agree…
"The offensive line is tough because people have to work together, and I think you have to have the right kind of intangibles in the squad as far as toughness, discipline, desire to finish. You sort of establish those kinds of intangibles in this position. But I also think technique is very, very important. So I don't want to say – all positions have technical aspects that are important. But the offensive line is tough because you have to have five people working together.
Did you know that BOL has a podcast? The BamaOnLine Podcast brings you the latest Alabama news and insights from Travis Reier, Charlie Potter, Hank South and Tim Watts. Watch the latest episode here or subscribe on itunes today!
Contact Charlie Potter by personal message or on Twitter (@Charlie_Potter).