Fifth-year Kansas volleyball senior Rachel Langs aims to make her senior year her best yet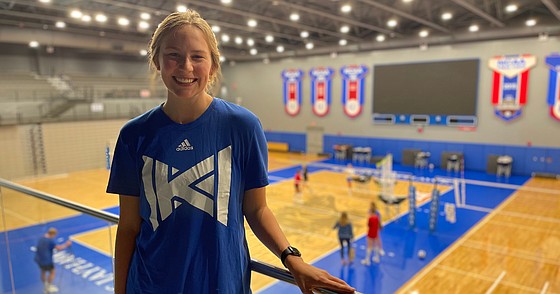 Kansas volleyball player Rachel Langs, a fifth-year senior from Fairview, Texas, spent four years falling in love with all things KU and four months hoping she could stay.
News that she would be able to play her fifth and final season of college volleyball for the Jayhawks this season came in mid-April after an agonizing waiting period of nearly 16 weeks.
It wasn't that the 6-foot-3 middle tackle who started 88 games over the past four years needed a spot on the team. It was obvious. KU coach Ray Bechard told him as much when the NCAA granted athletes an extra year of eligibility due to the COVID-19 pandemic.
"He's a quality human being," Bechard said of Langs in a Wednesday interview with the Journal-World. "And I don't think anyone in our team ever has to worry about how she represents our program on or off the pitch. It's huge to have her back.
The question about Langs' future at KU came from the academic side of things.
Already well on her way to earning her undergraduate degree at the time, Langs applied for entry into KU's speech-language pathology graduate program in January. The school, which is ranked No. 6 nationally among public institutions by US News and World Report, accepts only 30 to 35 applicants each year, which Langs said made her more than a little worried about to his future.
To cover her bases, she applied to other speech therapy programs at other schools where she knew she could also play volleyball. But it was not accepted by any of them. To make matters worse, KU initially put her on a waiting list, extending the process for another two weeks.
Photo
Photo courtesy of Missy Minear/Kansas Athletics
While Langs and the rest of the Jayhawks waited for her to be accepted, Bechard did what he could to ensure she had a place to play this season, calling friends in the coaching industry to push them. to save a place for Langs in case she needed to leave KU.
"It was definitely a stressful time," Langs told the Journal-World this week. "But once I found out I had entered, it was obvious I was staying. And I couldn't be more excited about it.
KU's speech therapy program spans two years, which means Langs will be at Lawrence until 2024. However, she will only be able to play volleyball for one of those years, and she and her coaches are determined to make the next season their best yet.
Often overshadowed by teammates with bigger stats, more athleticism and stronger personalities, Langs has found her niche as one of the Jayhawks' most stable players.
"She brings a consistent presence," Bechard said of the sweet, sunny Jayhawks veteran at net.
While most of this has to do with his personality, his stats are also often quite stable. She rarely delivers the highest scoring stat line of the night, but always does enough for her efforts to show up on the stat sheet afterwards. At the end of the season in 2021, Langs ranked fourth on the team with 161 kills and a team-high 131 blocks.
Langs prides herself on being someone her teammates can look to in good times and bad for a sense of calm, and she hopes to become more of a leader in the months ahead.
"I've had a voice on the pitch for the past two years, but I really want to take it to another level this season," she said. "Last year I didn't know if it was my last year or not, but this year, since I know that, I really want to cherish every moment and have a season similar to last year, with our team doing another race."
The 2021 Jayhawks reached the Sweet 16 after catching fire late in the season, and Bechard and Langs believe that kind of run — and potentially more — is possible again in 2022. Additionally, the veteran KU coach said he thought Langs could have a big say in how successful the Jayhawks are this season.
"She was a bit of a sidebar in a lot of cases, but Langs was pretty much a four-year starter for us," Bechard said. "This year we challenge her to have more impact on the game and hopefully it will be the best year she has had here."
According to Bechard, Langs' calming presence and persistent positivity are "just her." Langs, who smiled when she spoke about it, said she always operated that way and that her low-key approach sometimes helped her on the pitch when she played at a higher level and with more intensity.
"I don't think people still see it coming," she said of her biggest statistical plays. "It's nothing I do, really. I would play like this every time if I could. I just think it happens and it's just the flow of the game and how things go that day.
With last season's memorable run still fresh in his mind, Langs hopes this year's team can start as quickly as it finished.
No matter how the season goes, however, Langs is thrilled to have the opportunity in front of her and relishes the chance to be a Jayhawk for a bit longer.
"It was a real confidence boost for me to know that Coach B wanted me here and wanted me to stay as long as possible," she said. "Just knowing that he sees something in me that he wants to keep is really special."
Langs and the Jayhawks will host a tag team scrimmage this weekend before opening their schedule with a home exhibition game against Drake on Aug. 19. Town.